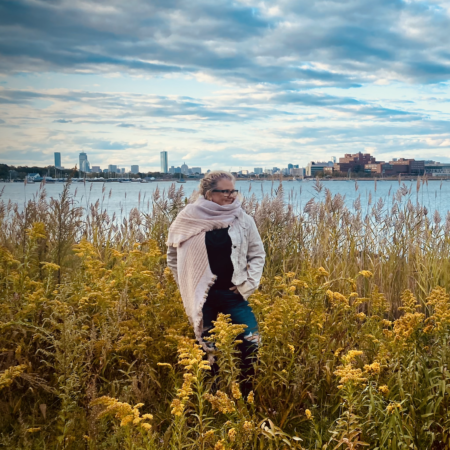 Laura Sauter is the creative force behind agencyBEL since 2001. O
ver the span of her career, she uses the power of branding – strategy, visual and verbal identity – to help organizations stand out from the crowd. Making them more memorable, and easier to understand, with or without a change of name or logo. To her, branding is about more than shapes, colors and lettering. She builds the complete brand, covering all media and all touch-points between the brand and its stakeholders.
Sauter taught design for over 11 years and served on the Boston chapter board of the American Institute of Graphic Artists (AIGA) where she spearheaded their professional development series. She is a popular speaker on issues of design, design thinking and how to live a designed and conscious life. She is a current board member of the New Art Center (NAC) in Newton, MA and NAHAC, a national non-profit for healthcare advocacy. 
Personally, Laura is passionate about all things health and wellness and practices yoga as well as many healing arts. She is an avid photographer, gardener, fluent in French, a mother and an environmental activist.
Curious? Set up a "Get to Know You Call" to see if we are a fit to work together
Reasons a company might engage with a branding agency like agencyBEL
Your market has changed. You want to more clearly segment and differentiate your products and services. You would like to woo a new generation of customers and staff. You need to be better understood. You're in crisis, or your brand has lost a little sparkle.
Or…
Perhaps your brand no longer works on a practical (or emotional) level, and it's time to refresh and re-energize it. You no longer stand out from the crowd, and need to redefine your brand positioning. You've acquired a new leader, have been acquired by someone else, or joined forces with someone else. Or, you simply feel like change… If any of these apply, AgencyBel is a branding agency in Boston best placed to reinvent or reinvigorate your brand.
So, agencyBEL is more than just graphic design?
AgencyBEL helps organizations build positive and profitable relationships through better branding. We're unusual because we think consistency is as important as creativity. To this end, we put in place standards and guidelines to make sure the brands we create today, look just as good tomorrow.
Our clients also know we can be consistently creative. As a branding agency with a strong track record, we cherish projects of all shapes and sizes. Whatever the assignment we reliably deliver quality, value and that little bit of magic. We like to go the extra mile, and view client services and project management as disciplines in their own right. Because we want clients to have a positive experience of working with our branding agency.
Branding is at the heart of modern life. As we've established, your brand will be more than just a snappy name or smart logo. It will be a way of moving your thinking, and your people, forward. A new language, a compelling story based on what people want and care about. Because that's the kind of brand that will live and last. Whatever we're branding… A private company. A charity. An education provider. A tech start-up…
The path we take – and the care we take along it – is always the same. So you can be sure of one thing. We'll help you to make a lasting impression, and build long-term relationships. And, when you have a brand and identity to be proud of, we'll apply to it your marketing communications and website.   Schedule time with her to see if your project is a fit!
Core branding services:
---
Positioning
Differentiation
Nomenclature
Logo mark design
Brand architecture
Sub-branding
Tone of voice
Top-level messaging
Verbal identity
Naming services
Visual identity
Branding assets
The agencyBEL approach
We are a strategic design agency in Boston. As craftspeople rather than process people, we adapt our processes to individual projects, not the other way round. While we apply methodology to creativity, we also know when to abandon the rules and follow our instincts. Unlike some design agencies, we've maintained our independence. This means we're free to explore more agile ways of working, leading to more interesting creative outcomes. And, as professional brand and design consultants, we do just that. We consult with our clients. Remaining objective, always.
We listen to our clients. We put the fundamentals in place. The first stage often involves exploratory discussions, to establish the project's framework and intelligent questioning to clarify the objectives. We think. We give our creativity a sense of direction. We examine the competitive landscape, research the target audience and investigate potential avenues for innovation. We create. Within the boundaries of our earlier listening and thinking, we give free rein to creativity.
1. Definition
We'll work with you to help define your objectives. A good starting point is a kick-off meeting, where we'll exchange reference materials, set clear objectives, sign-off the project plan and brief, and agree on the final scope of work and budgets.
2. Immersion
The project team gains a thorough understanding of the environment you operate in, your strategy, your key audiences, your current communications and the opportunities these present. As part of the brand and design consultancy process it's usual for agencyBEL to conduct workshops, interviews and surveys in conjunction with competitor and market research. We'll also undertake a communications audit, map out your own positioning and analyze our findings. Reporting directly to you, this information feeds directly into the brand strategy.
3. Vision
Using both our analytical skills and our creative skills, we work with you to develop and articulate the building blocks which will drive the project forward. We'll articulate your values and positioning, and develop initial mood boards supported by top-level messaging and tone of voice. While still at a relatively early stage, the look and feel will be developed enough to enable us to brainstorm which ideas have the potential for further development. Brand naming would also sit within this stage.
4. Development
If we're creating a new logo, it happens here, along with brand architecture and exploring the relationship between sub-brands and the master brand, and partner branding. Using the tools at our disposal, from color to typography and from photography to illustration, we build the complete brand identity, and test it across your most commonly used media.
5. Launch planning
We'll help you decide if a phased launch or a mega-launch is the way to go. We'll involve your team as appropriate, and develop a plan to apply and implement your new brand across digital and traditional channels. We can help you schedule roll-out of the new identity and manage budgets and resources. Putting our design agency services to the fore, we'll deliver a master plan to inform, inspire and drive communications across all relevant audience groups.
6. Implementation
This is about managing implementation across the business. And, if you wish to retain us, you can promote us to your internal creative team, as default design consultancy. We'll collaborate with your team or outside agencies, at the same time policing the brand guidelines. Ensuring your identity is implemented imaginatively.
Who are the perfect agencyBEL clients?
It's really about what our clients value rather than what they "do". Our clients have run the gambit from a independent café chain to a large corporate marketing department; from a retail chain to a municipal music and arts center.
We seek clients with heart. Our sense is that COVID will invite a new type of brand —a CONSCIOUS brand, identifying organizations with a strong sense of social responsibility.
Conscious brands are alive, awake, aware and self-aware, enabling us to change something. They'll adapt instantly to changing needs and moods among their customers and employees. They'll be not slick, corporate and mechanistic but emotionally intelligent, organic, rough, unfinished, constantly morphing, and even able to laugh at themselves. They are organizations not with a contrived 'purpose' but with an organic spirit.
What is a brand, exactly?
As a brand consultancy in Boston, we find ourselves asking this question every day. Is it the logo that creates recognition among your customers? Is it the communication strategy used to spread brand awareness? Or is it the way you identify yourself through a unique name, product and service? The answer is complex…
A true brand is a combination of all those elements. It's the heart and soul of your company, the conversations that happen between your customers, and the essence that sets you apart from your competition. For a brand to live (and last) it has to be original, sustainable and consistent. That's where we add value.
We help companies to understand "what" their brand is, and how to leverage it in a more compelling way. Everything from your visual and verbal identity to your marketing campaigns relies upon purpose and meaning. Whether you're a disruptive startup, or a company in search of reinvigoration or transformation, we deliver remarkable brand solutions.
While other agencies claim to 'own' a space, we're wary of being pigeonholed. In fact, we prefer to work with companies from all industries. We enjoy the challenge. It keeps our thinking fresh, and our work original. And, we never claim to know more about your business than you do. Only when we're content we 'genuinely' understand your business, and sector, do we develop strategic and creative solutions to raise awareness short-term, and brand loyalty long-term.
We're not in the business of delivering insipid, inconsistent branding programs. We design brand strategies, visual identities and brand awareness programs that reflect a basic truth of creativity. At the end of every assignment we ask if we've met our clients objectives, both strategically and creatively. And if we've delivered value to their business. Aware that you're only as good as your last job, we invite clients to judge us by the quality and originality of our work.
We understand that every organization is different. Our tailor-made brand consultancy services are intended to set you apart, not blend you in. Working closely with our clients, we analyse their existing strategy and determine areas in need of development. We use research, analysis and auditing, which lead to exciting opportunities and the development of new or repositioned brands. We encourage our clients to take an entirely fresh approach to communicating. We also encourage two-way dialogue because we believe this leads to longer-lasting relationships.
Whatever your requirement, we'll propose a process and solution that's just right. We'll unearth the good things about your brand, and underpin your purpose and values through positioning statements and differentiation that get you noticed, talked about and remembered. We'll pick apart your existing communication and marketing, and put them together again, in a more logical order. We'll isolate gaps in your brand, and recommend solutions to bridge them.
Brand consultancy services:
• Planning & strategy
• Communication audits
• Competitor analysis
• Employee engagement
• Concept generation
• Messaging & content
• Design development
• Marketing campaigns
Laura has been a great addition to our team. Her skilled graphic design work and quick turn around time have been a great asset to us. She has given our business a competitive edge though her creativity and ingenuity. I would recommend her to anyone seeking improvements to their branding and advertising campaigns.
I first met Laura ten years ago, and was immediately impressed with her creative ideas and business savvy. Fortunately, I had the opportunity to engage her agency when launched Juti, our brand of healthy energy bars! Laura was instrumental in the naming, and she created a superior brand strategy that we will use as the foundation for many years of future growth. As usual, the results that Laura provided were beyond my expectations. We love our identity, and impressive food photography we use on our website and in our marketing. Once we hit the packaging phase, Laura continued to over-deliver. She has a high sense of personal initiative, is very intelligent, and loves to use her creative genius to solve business branding/marketing challenges. Now we are in WHOLE FOODS!
When Laura showed me the vision board for Nyota, I fell in love, and my clients love my marketing materials — my website, my rack cards, my business card, my social media graphics, all of it! If it weren't for Laura, I wouldn't be able to display my passion and the essence of who I am and the service I provide. I gave her a seedling of an idea, and she nourished and cultivated it and made it beautiful. My business is flourishing thanks to Laura and Agency Bel's strategic vision and flawless execution.
Working with Laura was amazing! She is attentive, creative, professional & fast.
We are launching a new fitness & wellness company and needed more than just a logo—We needed a brand and image. So after researching and interviewing other designers, I decided to work with Agency Bel honestly because she asked the right questions.
Laura was proactive and I could tell right away that she could relate to my vision and understand what I was saying. Best part? She hit the nail on the head! I absolutely LOVE my logo and the entire process was enjoyable and quick.
On top of that, Agency Bel did other design work for me quickly and efficiently and helped me out of a bind. Laura is a great designer, and what makes her different from others is her mindset and personality – she is truly talented and a great person to work with. Highly recommend Agency Bel and their services!!
From the moment I met Laura, I knew she was the branding expert I needed. Her enthusiasm for my mobile foot clinic business was immediate. And nearly two years later, I spend almost as much time answering the question "Who did your marketing?" as I do fielding questions about podiatry! Laura helped me strategize and brand myself in a way that is true to who I am and shows my passion for holistic foot care. I know I made the right choice with Laura Sauter and Agency Bel.
AgencyBEL's work is beyond fabulous. They managed to perfectly capture the essence of our project — creating a playful, fun, and professional brand. The work is strong and exciting graphically. They were effective working with a large unwieldy group, with lots of diverse opinions. Over time. they have adapted the original work to several different formats and purposes. Generally, all our interactions with the agency have been delightful and professional. I strongly recommend agencyBEL for your branding and graphic design projects.
Laura is an amazingly talented woman who helped me transform a raw idea into a complete branding concept. Laura's creativity, out-of-the-box thinking and strategic guidance has led to me launching the entrepreneurial venture of
a lifetime!
I worked with Laura on re-branding my business with a new name, logo and business  cards. The whole
process was clear and easy. Laura was prompt with all of her responses, flexible, professional, and most
importantly; I LOVE my new look! I will definitely reach out to agencyBEL again for my future design needs!
Laura and Agency Bel have been a tremendous resource for our upstart business. They helped us with multiple aspects: from designing our identity to crafting  radio spots. Laura's energy and enthusiasm was always apparent and her knowledge of branding helped us keep our product hip and relevant. Without Laura, I am confident we would not have the understanding needed to produce a successful product that relates to people in today's market!
Since launching the Nyota brand last year with Laura Sauter of Agency Bel, my mobile foot care clinic's referrals have shot through the roof! I have at least three to four referrals from primary care doctors each week, translating to 50 to 70% growth. All because of the marketing materials Laura designed! When patients see, touch, and feel my business cards or rack display cards, they know Nyota is a legit clinic. The Nyota brand is on par with iconic brands like Coca-Cola and Nike. People know Nyota when they see it. If that isn't great branding, what is?
Laura is a brand professional and is an expert at what she does. She is thoughtful and professional. She offers the perfect alternative to large agency services providing a source for affordable, personalized and efficient brand marketing that helps augment marketing initiatives.
It is rare to find a designer that can speak a client's language. Working with Laura was a true pleasure. Her skill set is rare and unique: one-third designer, one-third project manager, and one-third interpreter. She is a fabulous listener and communicator. She takes vague and contradicting concepts and returns them as cohesive, successful design solutions. If your project is time sensitive, use Laura! She has amazing integrity, as well as design expertise.  I will be referring people!
As our Creative Director, she has worked well with multiple teams simultaneously regardless of being 2 time zones away.  Laura has a keen eye for detail. Communication with her is consistant and easily understood. Taste, style, professonalism, she's got it all!
Laura is an incredibly talented and creative branding professional who applies strategy, intelligence and depth to all of her designs. She has been my go to for almost a decade!
As a fellow board member (AIGA, Boston), I observed "Laura the catalyst" in action. She is very skilled at building unique and relevant chapter relationships with unexpected partners.
As a member of her Professional Development Committee, I benefited from "Laura the facilitator". She provided an environment that allowed her small team of volunteers to enhance, and or develop, business/design skills.
When I identified the need for mobile foot care, I knew I could corner the market with the proper branding and marketing. Laura Sauter of Agency Bel saw the opportunity too. She understood that the Baby Boomer population wants to age in place and that "health care that comes to you"  is part of that equation. Laura created a brand and marketing strategy that spoke to my target market while remaining true to my ethos, my passion for holistic medicine. I'm now experiencing phenomenal growth to the point where I need to hire a second practitioner! Laura offers exceptional marketing that manifests exceptional results.
Laura offers great knowledge, sophistication and experience in her field. She is an excellent communicator and intuitive to a client's needs. Laura maintains excellent focus that has helped us edit our choices and add value to our brand. Working with her on both our graphic design and branding has been both highly productive and enjoyable.