While none of us had 2020 vision for what this year would bring, there's no denying that – even in the face of a global crisis – creativity always prevails.
In lockdown, all we had to distract and entertain ourselves with our social media, streaming xservices, online shopping, gaming and video conferences. Our US Election campaign was forced online, movies were released straight to iTunes, and Amazon reported North American sales were up 29%.
So what are the trends that are emerging as of mid-year?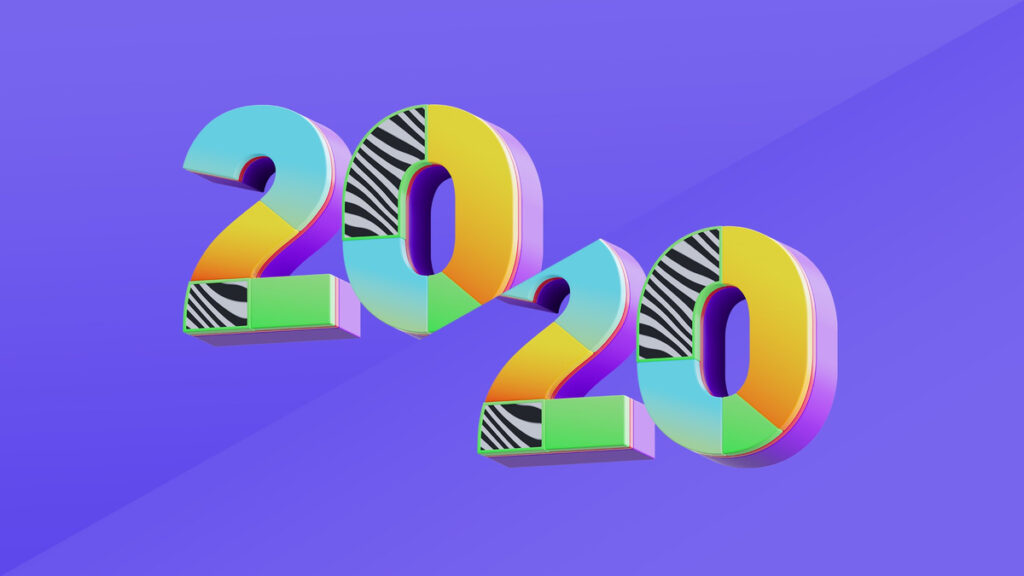 // Bold Retro: I am seeing bold color choices, retro flower motifs, paisley patterns and curvy serif type. They are not as kitsch-y as the original 70s designs were, instead they evoke a nostalgic, relaxed and cheerful aesthetic. 80s is seeing a resurgence too; with neon, and cyberpunk flairs.
// Nature and Environmentalism: During these challenging economic times, many are very preoccupied by environmental issues. They raise valid questions around the importance the environment should have in the global economic recovery (renewable energy, air quality, natural resources, etc.
// Authenticity: "Authenticity" has been a hot topic over the last few years, particularly in the worlds of marketing and advertising. Authenticity is still absolutely dominating the visual space as people crave more real, raw and unfiltered content. I see this concept of 'unfiltered' intensify in lockdown as news anchors cut to experts working from home offices, often being disrupted live on air by their children, and talk show hosts such as Ellen DeGeneres and Jimmy Kimmel began presenting from their living rooms. Actor John Krasinski even launched his own YouTube channel (Some Good News) which captured the spirit of pandemic realness, including sock puppets, makeshift sets and a painted logo.
// Activism: The rise of environmental and social activism throughout 2020 is creating an opportunity for raw, non-editorial content in support of social movements; an organic and unrefined style of content representing social change in an unstaged, candid way. This year I've seen an increased focus on mental health, diversity and disability. As the stigma attached to mental health begins to break down – and the importance of mental wellbeing comes to the foreground.
// Global Crisis: With many people social distancing, pivoting their businesses to digital, working from home, or being directly affected by the virus itself, there's been a big shift in the type of visual content being created. Information sharing is more important than ever during Covid-19. Graphics are made to inform people of rules and regulations. Infographics are accompanying articles and news stories. Icons are being created for app and website designs.
// Live Video & Series: Video content is dominating the online space. The massive rise of IGTV, Instagram Stories, YouTube and TikTok increases the popularity of live videos and video series throughout 2020. Easy to film and fun to watch, these live behind-the-scenes, chit-chat style videos are proving to be the most engaging form of video content. This is due to their authentic, relatable content.
As different industries start adopting live and long-form video into their marketing approach, customizable graphics are consequently growing in demand. Viewers are expecting to see polished, broadcast-quality content in their feeds. As vlogging continues progressing, viewers connect with content creators and are eager to consume more of their media.