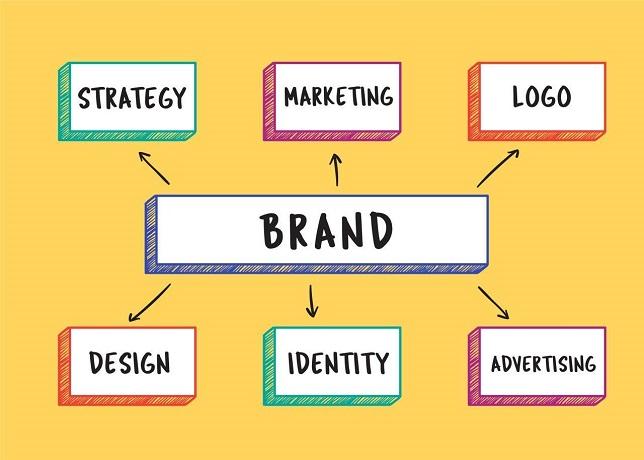 Sometimes the word "branding" can be intimidating. You may be thinking, "What's my brand? How should I know?" Well, your brand encompasses how you are different than your competitors, but it doesn't stop there. It involves your approach, your aesthetic, your value, your core. So if you're stuck thinking about your brand, first of all consider hiring someone who has helped others develop their brand and represent it visually. Second, start a dialogue with yourself that starts with, "How do I stand out? What makes me different? What's my value add?"And always keep in mind what you're trying to achieve. It's the core of everything you do.

Branding Can Be Broken Down into Three Categories:
Brand Strategy is a definitive map that explains how a brand Is different, why customers trust and recognize it, and what makes it memorable and successful? It includes a specific definition of a brand's purposes, promises, and missions. To build a successful brand, it is essential to have a strong foundation to connect to the target audience at the right time and place.Suppose you are a brand owner, by developing a brand strategy. In that case, you will have detailed guidance for your success and the best way to achieve your business goals.
Brand identity is how a brand delivers its message to the people via visual features, experiences, and targeting.Once a brand defines its strategy, it will show how to present its identity, accomplish its purposes, and establish a connection with its customers. It is a set of expressions, elements, and tools used by a company to create a business image. This image will portray you to your customers. It will help you through the advertising, designing a logo, iconography, typography, packaging, choosing a color palette, website design, and other imagery productions.Our latest article about Brand Identity will answer all your related questions.
Brand marketing is a process in which a brand aims for the right audiences by sharing the same values, interests, and offering precise answers to their needs through its product and services.To be successful in brand marketing, a brand needs to find the most effective way to communicate with its target audiences and engage them to become its loyal potential customers. In the internet-based digital era of 2021, to establish a bonding relationship with the public, a brand should be aware of these elements:
User Experience Marketing
Content Marketing
Advertising
Social Media Promotion
Commercial productions
SEO Marketing
Why Is Branding Important?
If you want to know how branding will help a business, you should know that branding is vital for a company and how the public perceives it.
Having an effective branding plan and increasing brand awareness will create a connection with more prominent companies and businesses, which is a step to glory!
These are the reasons why you need to develop a branding strategy.
Branding Brings Recognition The most important reason for having a strong branding map is because it is directly related to how people know, recognize, and connect with it. The best features for being recognized are a brand's logo and slogan. It is the way that the public will remember a brand and bond with it. These two features must be established based on powerful ideas to make a significant and unforgettable first impression. A sophisticated brand logo and a humanized slogan will cause a brand to stick in people's mind at first glance.
Branding Attracts New Customers Strong branding means that customers' impressions are satisfying. They are willing to buy your products or use your services because they trust you.A spotless reputation is a brand's most valuable achievement, which will bring new customers. Words will spread, and this is the most effective advertising technique a brand needs.
Branding Boosts Business Value
When it comes to generating future businesses, branding is helpful. Having a fundamentally established brand can boost business values by offering incredible leverage in the industry. The confirmed authority with an influential presence can open new doors for better investments. This way, a brand can gain a higher level in the marketplace and demonstrate a recognizable identity for future opportunities
Branding Improves Inner Pride Behind a successful brand, there is a devoted team. When an employee works for a regarded and well-known brand, he/she will feel proud of it.Working for a reputable company elevates confidence, and this satisfaction will lead to higher efficiency at work. Having professional team members who are happy with their status help a brand gain inner organizational pride because of its encouraging and constructive work environment.
Branding Creates Trust Within the Business World Having a professional and well-established brand portrayal will create trust with consumers, clients, and customers. People are more likely to initiate business with a company that has a professional public image and good impressions.A trustworthy brand, which is also an industry expert, will make the public feel as they can share the same interests and empower them in the way that it is committed to its services and products.
Branding Accelerates Advertising A strong public portrayal of a brand will lead to effective advertising strategies. This way, making cohesive and appealing advertising is easier and more likely to grab people's attention.When everything about a brand is completely defined, a way of success is already paved for promoting a brand via commercial productions such as print brochures, TV/radio ads, digital advertising, billboards, email marketing, sponsored ads, content promotions, and social media marketing. Advertising your brand with Homer. studio's brand consulting will increase sales and brand awareness. Check out our exceptional promotion offers for business owners.
What Are the Different Types of Branding?
Personal branding is mostly used by individuals like celebrities, politicians, or even digital marketers who want to gain a positive public image.This will result in their workplace successes or universal reputations.Social media like Instagram, Twitter, Facebook are the practical tools for creating a developed personal branding.These platforms give you a strong voice through which you can express your opinion to a large group of audiences and attract their attention.
Product Branding When a product name is used as a generic term like bubble wrap, Kleenex, jet ski, etc.you can call that a successful product branding.Logo, graphic designs, and slogans need to be catchy and bold to grab people's attention and stick in their minds. A well-established and creative connection is why people differentiate between different brands and choose one over the others.
Corporate branding is a process of naming a company or organization as opposed to specific products or services.It contains a broader range of branding strategies because it deals with the corporation itself and the way it builds a connection with customers and represents its name.With smart corporate branding, people will care about the corporation behind the product.Their ideas about a brand's products or services are not separated from their perceptions of the brand.
Geographical Branding Geographical branding is mostly related to the tourism industry focusing on the unique traits of a specific area, region, country, etc.It can be used to prove a point for visiting a place, trying the food, or buying a product.It will help with rebuilding good reputations or highlighting features that are hidden.
Online/ Offline Branding Online branding is also known as internet branding, which means positioning and promoting a brand through the internet.It refers to developing a website/application, publishing regular content, establishing social media accounts, and anything related to the web environment. Offline branding is related to everything that happens off the web via traditional platforms like billboards, radio, or television.Using expert salespersons, spokespersons, and other offline brand indicators will help promote a service or a product.
Activist branding or "conscious branding" is the strategy of making a positive social image, connecting with people's hearts so that your brand becomes synonymous with the cause.By this style, a brand seeks to impact a social, economic, environmental, or political problem.It means companies will actively engage on behalf of an issue because not only is it in line with their values, but it also brings them recognition and good publicity.
Service branding focuses on customer services and tries to provide them with implacable services.The selling point in service branding strategy is adding perceived value to customer service to appreciate this unique interaction. It could be giving free samples, offering chocolate during flights, or any other thing that customers might call "extra."
Ingredient Branding When a company emphasizes a specific ingredient of its product– it means employing ingredient branding. Ingredient branding ensures customers of the used ingredients and components of a product, to engage consumers, increase credibility, and attract attention to a unique product offering.For instance, Burger King sells ice-cream with chocolate chip cookies, competitor MacDonald's sells its McFlurry ice creams with Oreo biscuits.
How to Create a Brand with Branding Values?
For a strong and identifiable brand, keep these features in mind:
Determine Your Target Audience To communicate effectively, you need to identify your target audiences. Study what they need, why they should follow you, what your products offer them.This way, you can work on attracting and engaging them with your brand, gaining their trust, and turning mere visitors into potential customers.
Find Your Brand's Voice and Persona Brand's persona is the personality of your brand. It is a combination of humanized characteristics through which you communicate with your audiences. It is the process of establishing a specific tone of voice, language, and manner to attract and engage people.
You must ensure that your advertising campaigns, social media captions, blog posts, and brand stories are based on a consistent tone and personality.
Define Your Mission, Value, and Purposes The answer to why did you create your brand leads to a definition of your brand's mission in the business world.
Your brand's mission statement highlights why your organization exists and why people should care about your brand.To stand out in the competition and be differentiable from other businesses, a brand must establish unique and specific values and qualities solely owned by its services and products.
Employ Perfect Visual Assets A brand's visual assets are its logo, typography, colors, fonts, language, iconography, and other imagery components.
Creating a brand guideline will act as a map to all your brand's needs, wrongs/rights, and rules. It will ensure that whoever uses your branding does so accurately and consistently based on your provided materials.To read more about this subject, check out our Brand Guideline article.
Apply Your Strategies to Your Business Now that everything is crystal clear, you must apply these rules to your website, social media, packaging, customer service, sales, and advertising methods. Ready? Set, Brand! Branding is your company's name, logo, colors, voice, mission, images, and purposes.
It is the substantial feeling your customers have when they are interacting with you.
Their experience will become word of mouth, and this way, you can gain reputation, authority, and recognition. By establishing strong branding components, you can touch your customers' souls and hearts, and make them trust you and your name. If you are at the beginning of starting your business or trying to (re)ignite your brand Agency BEL offers you professional marketing and advertising services. Having a creative and smart consultant by your side will help you build your brand's reputation, develop a unique style, attract more customers, and increase sales. We helped so many brands like you establish their identity, advertise their products, and become the best in their fields.